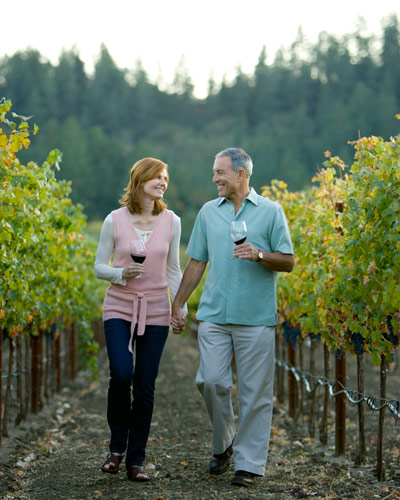 River Oaks is a rare find. It showcases the very best of California living with its natural beauty, abundant resources and exceptional assets. Residents enjoy convenient access to shopping, recreation and educational opportunities. Distinctive homes in diverse, pedestrian-friendly neighborhoods give River Oaks a unique, close-knit feel with a common thread of order, beauty and balance. Exceptional Experiences are created every day.
River Oaks is a sustainable development, dedicated to preserving the area's beauty and natural resources, as well as the health of all who live here. It is surrounded by lovely vineyards, miles of hiking, sports and recreation for the entire family. Our neighborhoods connect people to the beauty of the Central Coast and help protect and enhance the overall health, natural environment and quality of life in San Luis Obispo County. We call it ecoSmartsm. People living here just call it home.
Relax and Play
Relax at the River Oaks Hot Springs Spa, a natural hot mineral spring spa offering therapeutic massages, facials, and open-air indoor and hillside outdoor mineral spring tubs.
Play the River Oaks Golf Course, a six-hole player development course perfect for perfecting your game with family, friends or business associates.
Take in a concert or festival at one of several of the River Oaks Events facilities – perfect for outdoor music, theater and other special occasions.
Lifelong Learning
The Kermit King Elementary School has been designated as a 2008 California Distinguished School. This award honors California's most exemplary and inspiring public schools – and one of them is located in River Oaks. The elementary school and Cuesta Community College are within a short walk or bike ride from anywhere in River Oaks, offering lifelong learning opportunities in your own backyard.
Sustainable
Sustainability and natural resource conservation are fundamental in the planning and design of River Oaks today and in the future. Our newest project, River Oaks Center, is a shining example of how modern design and the sustainability of resources can work hand-in-hand to protect and enhance the overall health, natural environment and quality of life in our community. River Oaks Center is San Luis Obispo County's first commercial building to receive a GOLD pre-certification from the US Green Building Council's Leadership in Energy and Environmental Design (LEED) Green Building rating system.
The community of River Oaks will continue to grow, but our commitment to creating Exceptional Experiences will not change. Sustainability and resource conservation will remain a priority. We will develop near existing communities to avoid sprawl and design new areas for walkability, water and natural resource conservation and energy savings.